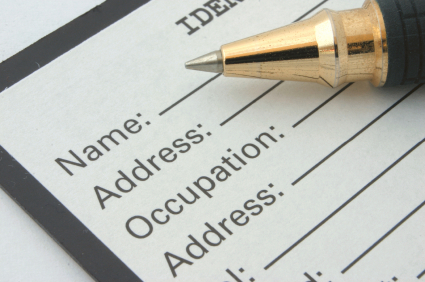 In days of yore your bank – or some such institution – would mail forms for you to sign and have you mail them back. These days they email the forms that they expect you to print out, fill in by hand, sign, scan back into your computer and then email back to them. A low cost option for them and a monumental pain in the rear for you. And this is especially true if scanning is something you don't do very often and/or fills you with dread.
But there is a solution that doesn't require printers or scanners and can make life very breezy for those of us that are required  to fill in forms from time to time.
The first thing you need to do is commit your signature to the mac and you only need to do this once.
Grab a piece of clean A4 paper and sign your name in the usual way using a thick black marker, something akin to a Sparpie.
Then,  open any PDF file that may be lurking on on your Mac and this should launch Preview. That Swiss Army application that no one talks about.
In the top most part of the window you'll find a button named Mark Up and clicking on this reveals a whole host of other icons that allow you to add all kinds of features to this or any other file opened in Preview. The one we are interested in right at the moment is the Signature icon.
Click on it and you'll you be invited to create a signature. If you are lucky enough to have a trackpad you can sign your name on the trackpad using your finger like a pencil and it will appear right on screen.
For those of us that are old school, choosing the Camera option will activate your camera and it is now that the signature you committed to the A4 sheet of paper in step 1 comes to fruition .
Hold up your paper as suggested and like magic your signature is captured for further use.
Now, to the actual filling in and signing of the form.
In most cases forms sent from banks and the like are ready to fill in on screen. (and really if they don't send you a form correctly formatted to allow on screen completion you need to question their sanity)
Open your form of choice and click in the field provided and you should see the box allowing you to type in the information required.
As you can see you can click in the relevant field and fill in the details and even click on the boxes to indicate "YES" you'd like the Bridal suite and "NO" you don't want to be woken up at 4am to make the most of your free gym membership.
When it comes time to actually sign the form  – that task that usually dooms you print out and rescan – can now be done by clicking on our old friend the Markup button and choosing the signature you set up earlier.
Once it appears on screen, simply drag the signature to the appropriate location and you are done.
From here you can save the file and email it as an atahcment or, using the Share button, email the form immediately from within Preview.