It was a feature that I loved and a feature that I would often demonstrate as one of the best cross overs of the old and the new. It is also a feature that, to my shame, I only used three or four times in its ten year life cycle. Perhaps this is why the ability to order prints and books has been removed from Apple Photos.
At the beginning of August 2018 people started to see a dialog box appear every time they ventured into the create section of Photos: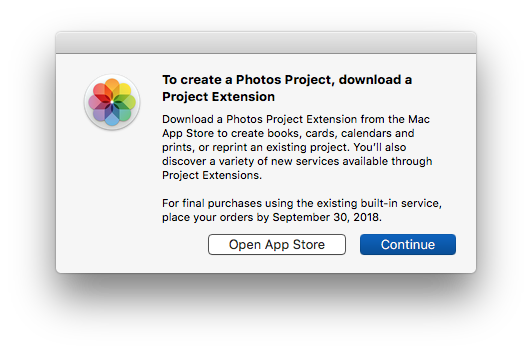 Then, just recently, anyone who had ever used the Order Prints or Order Book feature in the past was getting an email from Apple explaining that these services were being replaced with "Project Extensions"… in other words, Apple was leaving the building and you were on your own.
So what does this mean? Well for most of us a mild irritation as this was a wonderfully well baked-in service that allowed us to turn those thousands of photos on our Mac into prints for the wall or coffee table books to be flicked through once. For the rest of the world it means nothing at all even though it really ought to have done as this really was a cool feature.
Sadly though, most people exported their photos to a USB stick and took them to OfficeWorks to be printed. Although a terribly analog approach I guess it worked.
Others, who were more interested in creating books or calendars, used services like AlbumWorks that have an online and (hard to find) desktop application. Mind you, this stand alone application is badly written and ponderous in everyday. It took a long time to download, an age to install and a lifetime to open. Honestly, if you are thinking of using this, consider starting a PHD in Physics that you can do while you wait for it to do anything. In any event, these services take you out of the Photos experience and for my part I enjoyed the convenience of using the pull down menu and the quality of the product that arrived in the mail just a few days later.
Anyway, dwelling on the past is not very useful so lets look at where we are being dragged kicking and screaming to.
At the moment when you attempt to Order Prints or create anything like a book you are invited to look at the App Store for free plug ins.
I have looked at the them all and for me personally it comes down to three choices.
Ordering Prints
It seems in the post pull down menu age the analog way might be the best. Simply putting together your album and then exporting them to a USB key might be the best way. There are a number of services that will print out these photos but OfficeWorks seems to have the lions share of the collective DIY market.
For those that have never done that but often thought they might like to, here is how to export your photos from an Album to a USB drive.
Insert your USB key into the Mac.
Place your photos into an album.
Open the album and choose Select All from the Edit menu.

Choose Export from the File menu.

Make your choice of Photo Kind, quality and so on and then click Export. Hint: If you cannot see these options, click on the down arrow icon on the right.
Choose your USB key from the sidebar and click on Export.
For those that want an exclusively online service the best (so far as I can tell and I am happy to be schooled in the comments) is Whitewall.
Once you have been guided to the App Store and started looking at the offerings I think Whitewall is the closest to the norm.
Once installed, the process of ordering prints is as simple as putting your photos into an album and then using the File/Create menu and choose Whitewall.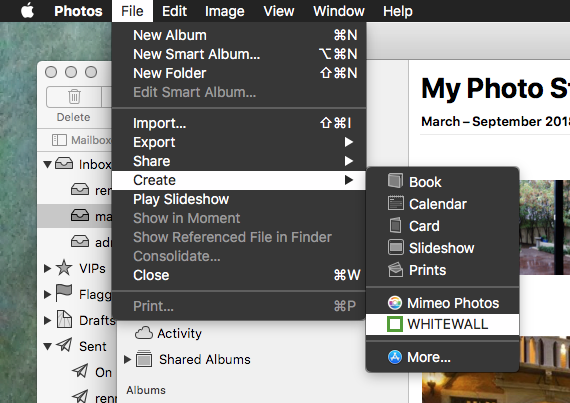 From here you can order prints, prints in frames or your photos mounted on boards or canvas.
Creating books and calendars
Of all the creative functions in Photos, the creating of coffee table books and calendars is the most challenging. Photos was often criticised for being too rigid and for that reason some would gravitate towards services like AlbumWorks.
But for those that were happy with Apple service, Mimeo Photos seems to be the best alternative.
The installing of the plugin is the same as Whitewall and once installed the process of accessing the service is the same as above namely File/Create menu and choosing Mimeo Photos.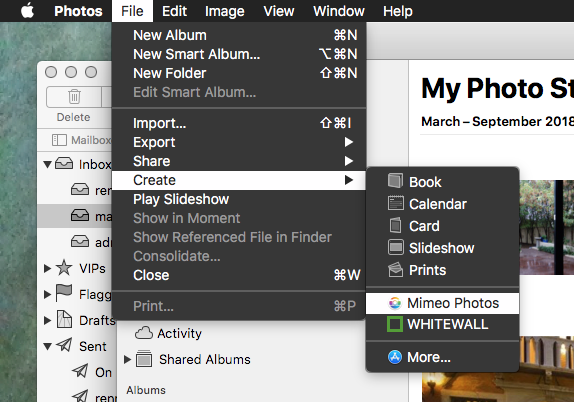 I cannot attest to the quality of these products because I haven't had a chance to try them out at that level but if Apple are pushing them once would have to hope they are good.