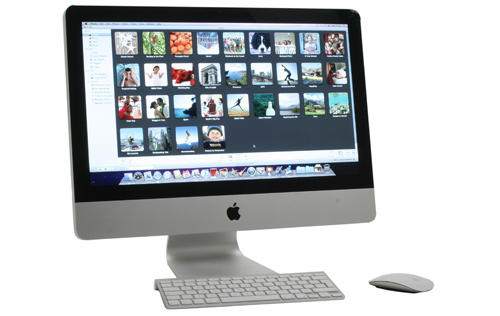 In the months that lead up to the Yosemite launch I decided that when the update finally arrived it would be time to upgrade my hard disk and then perform a clean install.
I have had my mac since 2010 and when it shipped it had Snow Leopard installed. Since then I have upgraded in the time honoured tradition of waiting hours and hours and hours for it to download, install the update (hoping nothing goes wrong) and then deal with all the software issues. Which I must admit, over the years, have been few and far between. But while this approach is convenient it does come- after a while – with a performance hit.
The alternative that follows is time consuming and a little pricey but- as you will see- is well worth it.
My iMac is four years old and while in human years it's not ready for school, in computer terms it's practically retirement age. As I've said in the past computers age like dogs. So it's safe to say it's getting on but it still has a decent i7 processor, 16GB of ram and plenty of storage in the form of a 1TB hard disk.
My upgrade started with the purchase of a 1TB solid state drive (SSD) that is – and there really isn't any other way of putting this – ridiculously expensive at $699.00 (the drive I removed is worth about $170. Let's hope my wife never reads this post!)
I prepared to install the drive but just before I did I performed a real world test. I turned off the mac and booted it up and discovered something my jangled nerves already suspected- that it took 1 min 35 seconds to boot and 4 mins and 51 seconds after that to launch Safari. Yes it's true what they say….. a mechanics car is always the last to get serviced.
Taking out the drive was easy and once the new one was installed I installed a fresh copy of Yosemite. As expected, once the install was over, it asked me if I wanted to migrate any data which I did from my old hard disk that was, by now, waiting patiently in a caddy. It seemed blissfully unaware that it's days were numbered.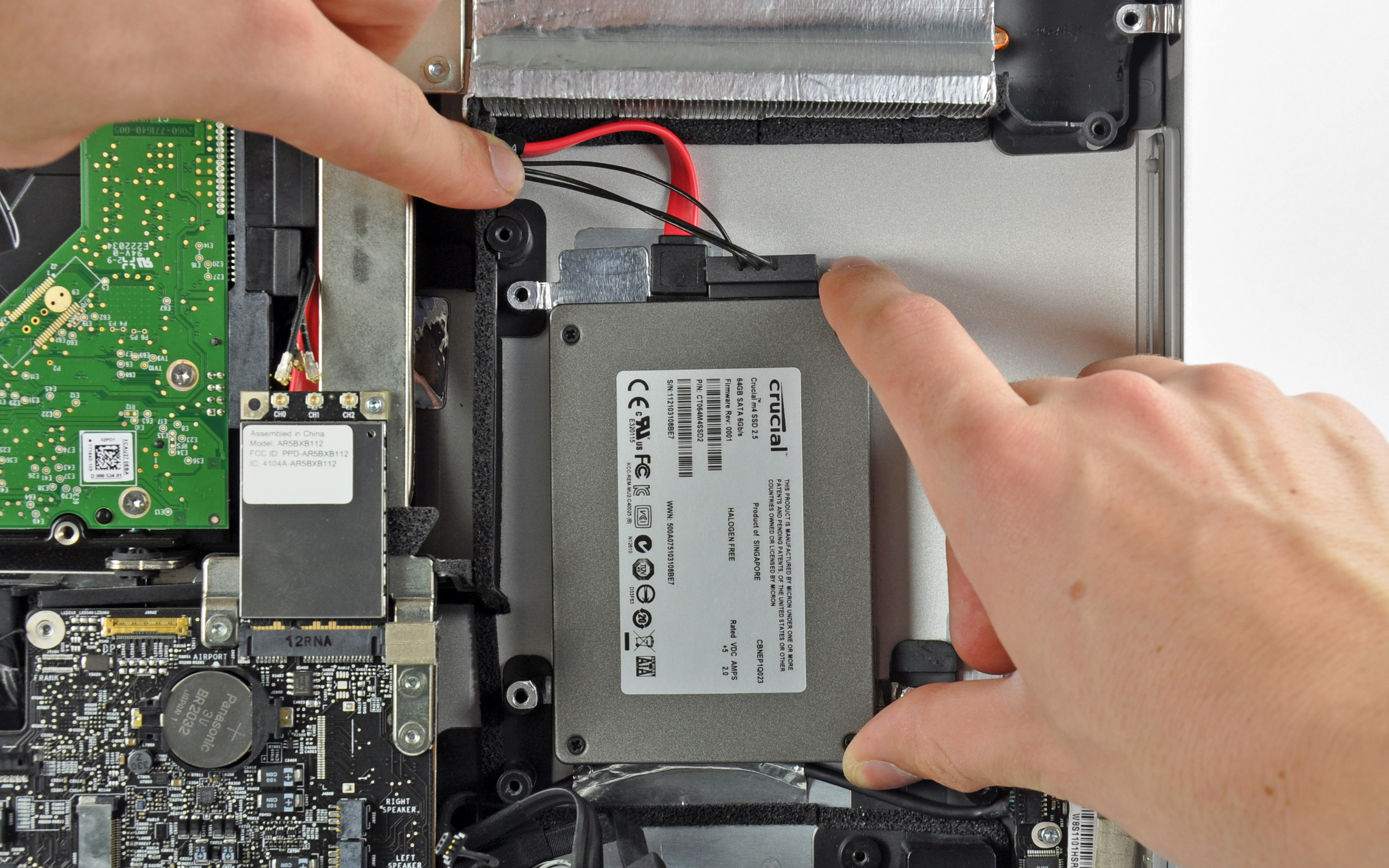 Once done I had to install several updates and take care of some software titles that needed replacing under the new OS but then it was done and ready for use.
My first task – of course- was to run the same boot test as before and I was delighted to find that the boot process took 10 seconds and Safari launched in 40 seconds!!!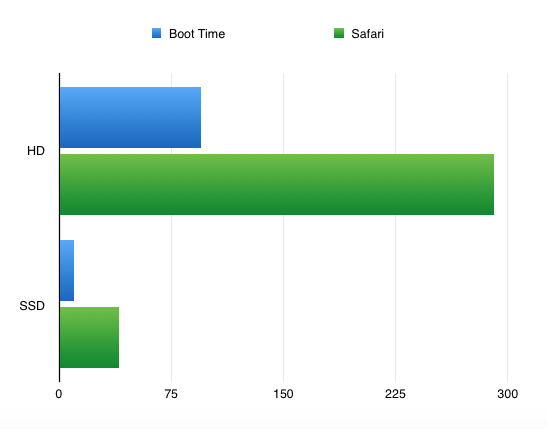 Now my 4 year old mac is running like a new one and has the latest operating system. This is the perfect opportunity to have a good look at Yosemite itself.
You might recall I don't like the icons and must admit, after two days nothing has changed. Beyond that the interface remains familiar and bristling with features.
It's true that while my Mac is now fast it is still 4 years old so none of the handoff features work chiefly because I don't have the required version 4 of Bluetooth. But I can use sms relay (meaning I can now send and receive texts on my Mac from anyone- not just those using iMessage) and I can receive phone calls on my Mac and use it like a speaker phone.

Spotlight has been expanded to include detailed information when you do a search.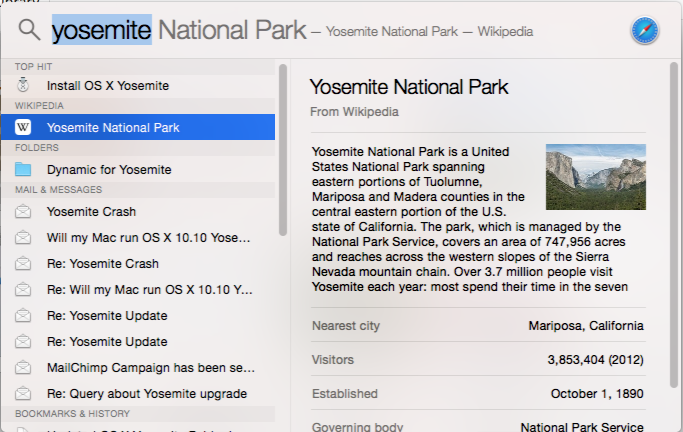 Mail has also had a face lift with very handy 'markup features' so you can edit or annotate files right inside Mail or add a signature to a PDF before sending the email.
There is now iCloud Drive that keeps all your Pages, Numbers, Keynote documents in sync between your mac and your iOS device or your Windows PC. Plus, for the first time (and long over due) you can now store any kind of file in iCloud Drive so it's more akin to Dropbox or One Drive.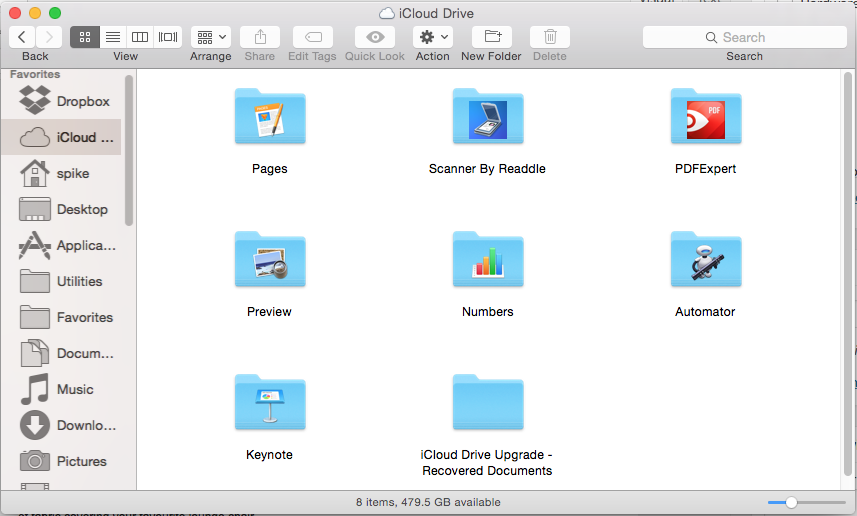 You don't have to install an SSD into your computer to get the most out of Yosemite – but it helps and if you think you'd like to go down that track drop us a line (remembering that a 500GB drive would be half the cost but just as fast)
Alone the new interface will squeeze more speed out of your Mac (provided you have more than 4GB of ram in my opinion) and unlike Windows 8 you won't be spending all your time trying to figure out where anything is or how it works. Instead it will be like a room that has been renovated by one of those house shows on TV. You will instantly know how to get into the house and you'll recognise the living-room…. you just might not be fully sold on the choice of fabric covering your favourite lounge chair.