Regular readers of this site will, I am sure, already know that I am a big fan of wireless headphones.
That is not to say that I am in love with all wireless headphones and that they are all created equally.
My first foray into this world of wireless music was a set of Plantronics Back to Beat earbuds. Ghastly things that were tethered together by a contraption that lopped around the back of my neck like a rubberised shoelace that somehow always managed to move left or right and bunch up on either my left or right shoulder. The pairing of them to my iPhone was done via holding down a bewildering combination of buttons for just the right amount of time and if you got it wrong you were just as likely to put them into demo mode as you were turning them off. Considering all they had to do was play music through two pea sized apertures the battery life was pathetic and they sat in my ears as comfortably as a pair of Georgian armchairs might.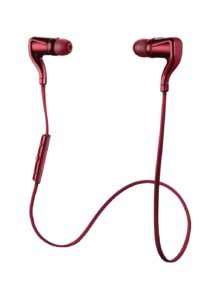 My next attempt were Bose QuietComfort QC and I will simply not hear a bad word said about them. They are noise cancelling, the are immensely comfortable and the battery lasts longer than some American Sitcoms. They also have a microphone so I can make and accept phone calls while wearing them. However, and this is only true while I am in public, I look ridiculous while I am wearing them because the over-the-ear design means I look like a Cyberman from Dr Who. Something I am reminded of every time I see my silhouette, catch my reflection in the mirror or are asked by a BBC crewman why I am not on set.
Since getting my Apple Watch I have been trying to minimise what comes exercising with me and so I have been looking at the Apple AirPods since their release in 2016. So in October 2017 I took the plunge and bought a pair.
My first thought was rather than look like a Cyberman I might look like someone who has something white dribbling out of his ears. However I can report as these earphones don't modify your silhouette I am only reminded of them when I see myself in a mirror. Plus, since there have been scores of braver souls than me wearing these in public for most of the year, no one seems to care what I look like.
In a word these little headphones are sensational.
For starters the concept of the organic case  – which by the way is very sensuous in the hand (perhaps I have been in this game a bit too long)- and the charging of same and the headphones within, is beautifully simple.
This smart case also acts as possibly the best way to pair any headphones to your iPhone or iPad. Simply by opening the case in the vicinity of an as yet unknown iPhone will prompt them be paired. Magical.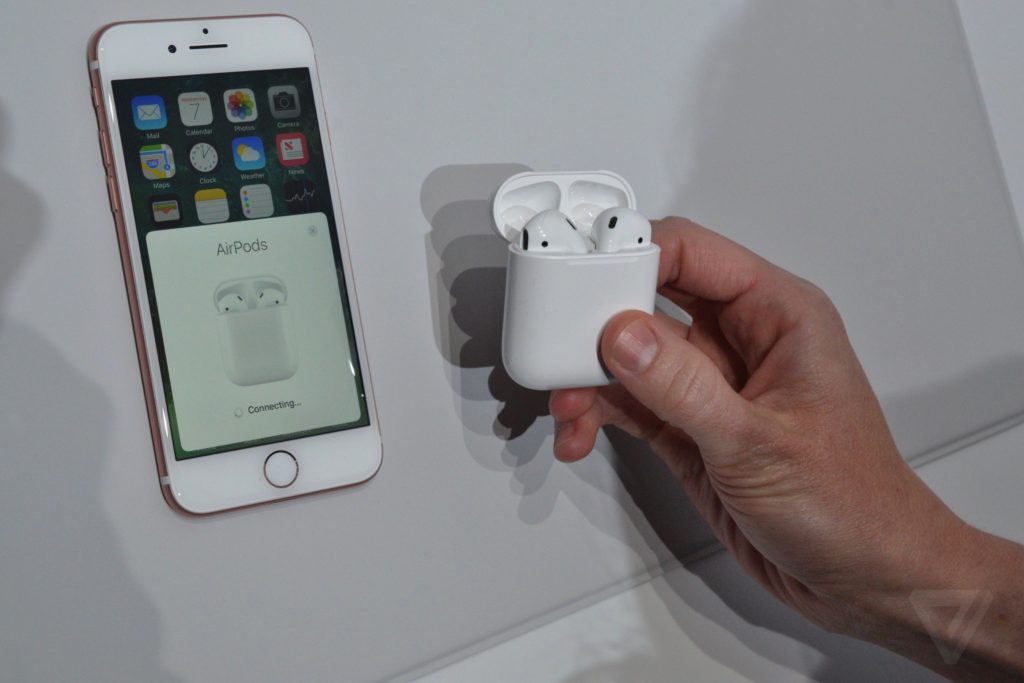 Once paired, you simply pop them out and sit them in your ears (and without a cord pulling on them they sit in the average ear securely). Within a second they sense they are in an ear and activate with a satisfying "brummm" sound. If only put in one ear it will adjust volume and play in mono but then pop the second one in and it will adjust, sync up and move into stereo… without any effort from you. If, at any stage you take one out, the music will pause until you put it back in your ear.
Then start playing music or a podcast and your are immersed in a beautifully balanced stereo sound.
To activate Siri you simply double tap on one of the earbuds and with her (or him depending on your preference) listening you can make a phone call, ask a question, tell her to increase or decrease volume or pause play back. And speaking of making a phone call… you would be forgiven for thinking that the quality and volume of your voice would be severely compromised by the microphone only extending inches from your ears. In fact the quality for the listener is superb and Siri tends to be super accurate and responsive when using these… a sure sign that she can hear you loud and clear.
It is hard not to recommend the Bose but at nearly half the price and with the added benefit of not making you look like you have just stepped off the set of Dr. Who I think the AirPods are a sensational bargain and a fantastic companion to your iPhone, iPad or Apple Watch.