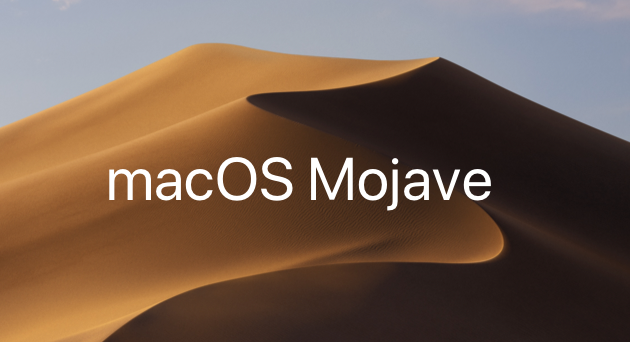 It has been a long time since I was both this excited, and scared of an update in equal measure.
For starters, Mojave promises some very cool – and useful – features but it also heralds the age of 64bit MacOS and this means only one thing… a lot of older software is now history.
Perhaps you have a budget program that you have used for the last ten years and it saw you through a pretty sketchy period of financial hardship a couple of years back.
Perhaps you have hung onto your original purchase of Office 2008.
Perhaps you have a beloved scanner that has never let you down but relies on specific software and perhaps this software isn't being upgraded and all other alternatives suck the carpet from the lowest floor in hell.
(if you cannot tell… that is a personal issue for me)
But I digress.
10.14, or Mojave to its friends, is a fine OS that comes with so many features that it is well worth considering seriously. This is not just a tightening of the screws and dotting the i's kind of upgrade… it is full of new stuff and unlike previous updates this one hasn't left the birthing suite with bugs and issues. Over a full month has passed – as of this writing – and the news is mostly good. In fact a lot of people have upgraded without realising anything aside from some new features that just "popped out of nowhere", so "smoothness" is generally the word of the moment.
But before you take the plunge, let us look at some of the pitfalls and, while we are at it, have a look at some of the more useful features.
Pitfalls
Well really the only pitfall is going to be the aforementioned software thing. In my case it is true this update did make my scanner less sexy but in the final analysis, it is not Mojave's fault, it is really Fujitsu's.
But if you are running – and rely on – older copies of Photoshop you might want to avoid this update until you can upgrade to the latest version. Same can be said for Office 2011.
What to do before you install
Firstly, see just how many 32 bit apps you still have lurking in the darker corners of your hard disk. I wrote an article a little while back, you can find it here.
Also, as always, ensure that you have an up to date backup. And finally, give your Mac a health check to see if the disk is OK.
And now, to the useful features…
It feels better
Not sure how I can explain this but your mac "feels" faster. The scrolling and the opening of windows seems smoother and more buttery. It really feels like your Mac (just like the iPhones before them) have received a new lease on life… just when they thought they were going out to pasture.
iOS apps come to the desktop.
It has long been speculated that Apple was going to merge its iOS interface and that of its desktop. While this has not happened – at least not yet – Mojave does introduce some well loved iOS apps to the desktop. If the nervous nellies could relax for just a little while and look at the functionality benefits of these software titles they might see that this is a very good thing and NOT the end of the MacOS. If you are a regular user of the Apple News application on your iPhone or iPad you'll now be able to read your favourite news articles on your 27 inch iMac. What's more, your preferences will be sent to all of your devices so if you subscribe to the Sydney Morning Herald on your iPhone you'll find that subscription on your iMac when you get home. You can now also quickly record a voice memo which will be sent to your iPad and iPhone via iCloud. And for those of us that use Home kit to control our lights and door locks this can now be done on your iMac. When this migration to the desktop was first announced it was seen as something of a controversy but for the life of me I cannot figure out why. This is not the first time an application that was pioneered on your iPhone as made its way to your desktop.… I'm looking at you Reminders app!
Dark mode
Without doubt the most dramatic feature of 10.14 is Dark Mode. First popularised by professional applications like Photoshop and Aperture, the darkened windows and pulldown menus are now baked into the operating system. However, there's no need to worry about this because if you do not like this look it can be turned off very easily. But for most this makes the MacOS feel modern and, according to some, it is better for your eyes.
Improvements in security and privacy
It's a well known fact Apple is obsessed with privacy and security, sometimes to the point of a eye watering obsession. Don't get me wrong, I'm all for privacy and security and the fact that Safari has now been given new and improved ways of preventing websites from tracking you is a welcomed addition.
Stacks
Even though Apple – and Microsoft – go to a great deal of trouble to create specific folders for specific files the default always seems to be the desktop. Particularly during heavy workloads it is not unusual to find hundreds sometimes thousands (I'm not kidding) of files cluttering up the desktop. This can sometimes make your Mac start-up times seem more like your Mac is drifting through treacle rather than skating on greased lightning. Now with Mojave the desktop has been given a new way to manage files by way of Stacks. When this option is chosen all files are stacked into piles according to their file type or date of creation. Clicking on the pile exposes all the files within so they can be opened.
Edit documents without opening them
A feature that was introduced way back in 2007 was QuickView. It is a testimony to just how bad Apple is at explaining its new cool features that even today most people do not know it is possible to read a document without opening the application that created it.
Simply by highlighting the document and pressing the space bar you have always been able to see and read the contents on the fly. But now you can actually edit the document still without needing to open the application. This makes for very quick edits and additions before it is – for example – emailed to someone. This is yet another professional user feature that has come to the rest of us.
And finally…
Continuity Camera
This has got to be one of the coolest features of Mojave. In fact it is possibly the coolest OS feature since MacOS X was introduced.
If your iPhone or iPad is running iOS 12 or better you can simply take a photo or scan a document into the Finder or a mail message or a Pages document, instantly.
This is how it works…
Let us say you want to sell a coffee cup and you are producing a flier. (I know, but its late and this is the only thing I could think of.)
In the past, you'd have to take the photo, import it onto the mac (via card or cable or email it from your phone), locate it and then import it.
Now, when Pages (for example) is open you simply right mouse click on the space reserved for the picture and choose "Take Photo"
Instantly your iPhone comes to life and turns on your camera. Now, simply point it at the coffee cup and take the photo and – like magic – it appears in your document right where it needs to be.
Also, with document scanner feature, you could also include the scan of a signed document directly into an email.
Better still, lets see it in action while we try and sell something else equally as lame.
There is no doubt in my mind that this is one of the better OS updates in a long while. It needs to be approached with caution but it is worth the effort and in the end it drags your Mac and your software into the modern age and that can only be a good thing because old and unpatched software is the playground of hackers the world over.