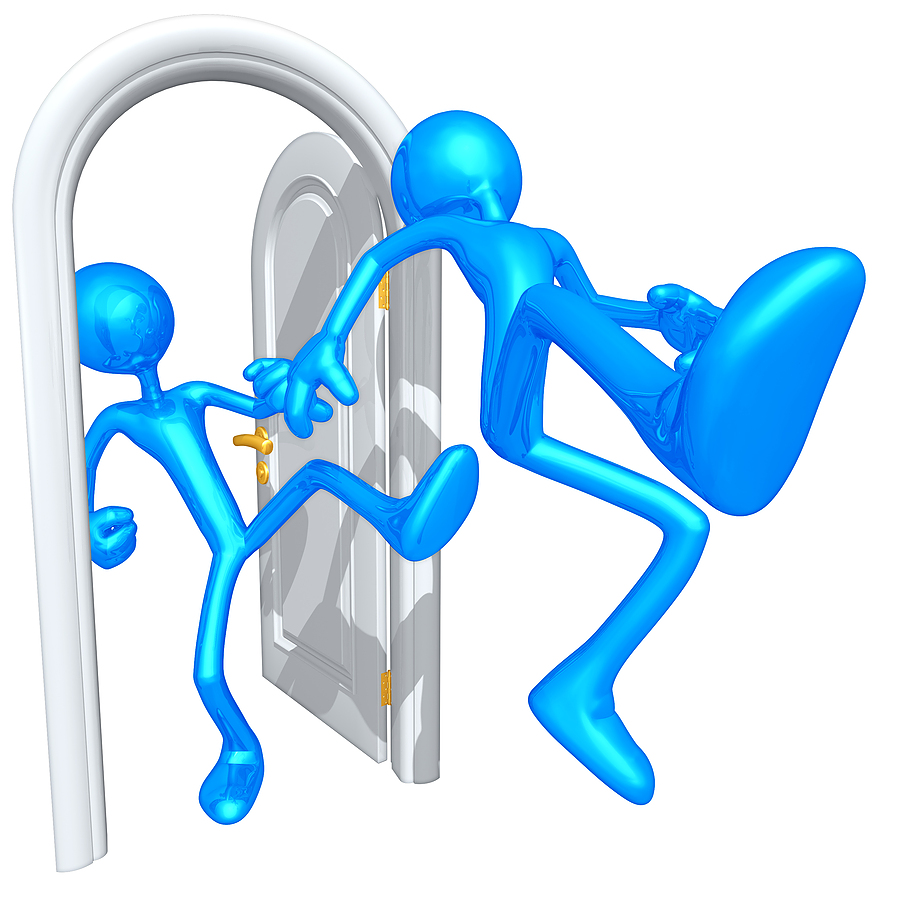 If you were to go back in time to a house 100 years ago you'd more than likely see rooms filled with large wooden tables, chairs with legs thicker than the people sitting in them and china cabinets that were almost big enough, and sturdy enough, to actually live in.
But look at a house today and the furniture is sleek and perhaps even a little cold thanks in part to the advancement of manufacture and composite materials. So if last years iPhoto can be likened to a Georgian armchair with its thick borders, its many textured  icons and gloopy interface, then the recently launched Photos app is definitely an Ikea coffee table.
Random woman in iPhoto '11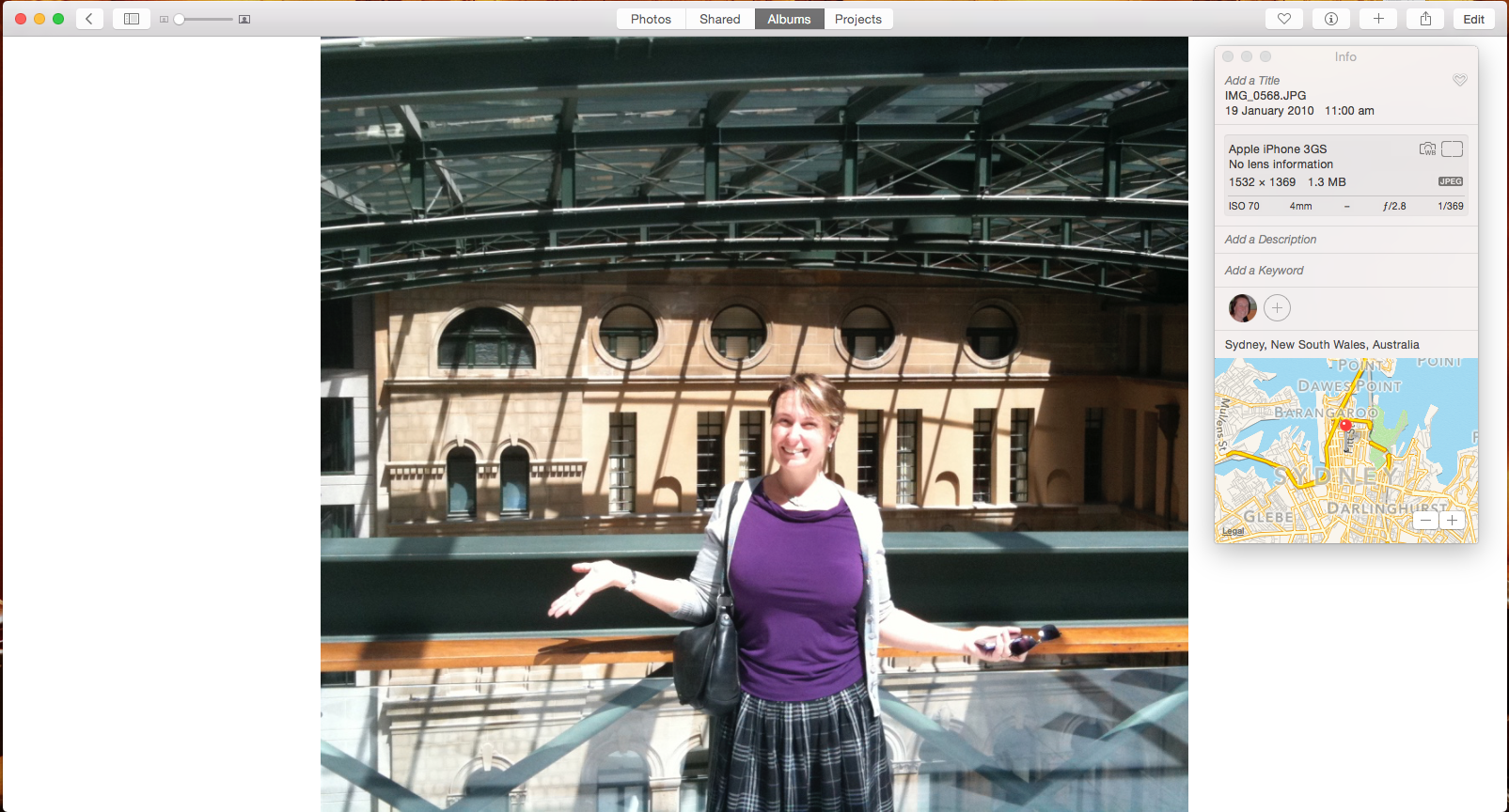 Same random women in Photos
And even if you like the idea of clean lines and stark borders, it's still not all good news.
Firstly, if you are a fan of iPhoto then you are going to surprised  when its icon has been removed from your dock, to be replaced by the new Photos icon.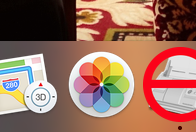 If you click on Photos and click on Get Started you will be asked two very important questions:
1. Do you want to use iCloud Photos (and unless you have a very small library or heaps and heaps of iCloud storage, then you might want to say Not Now to that.)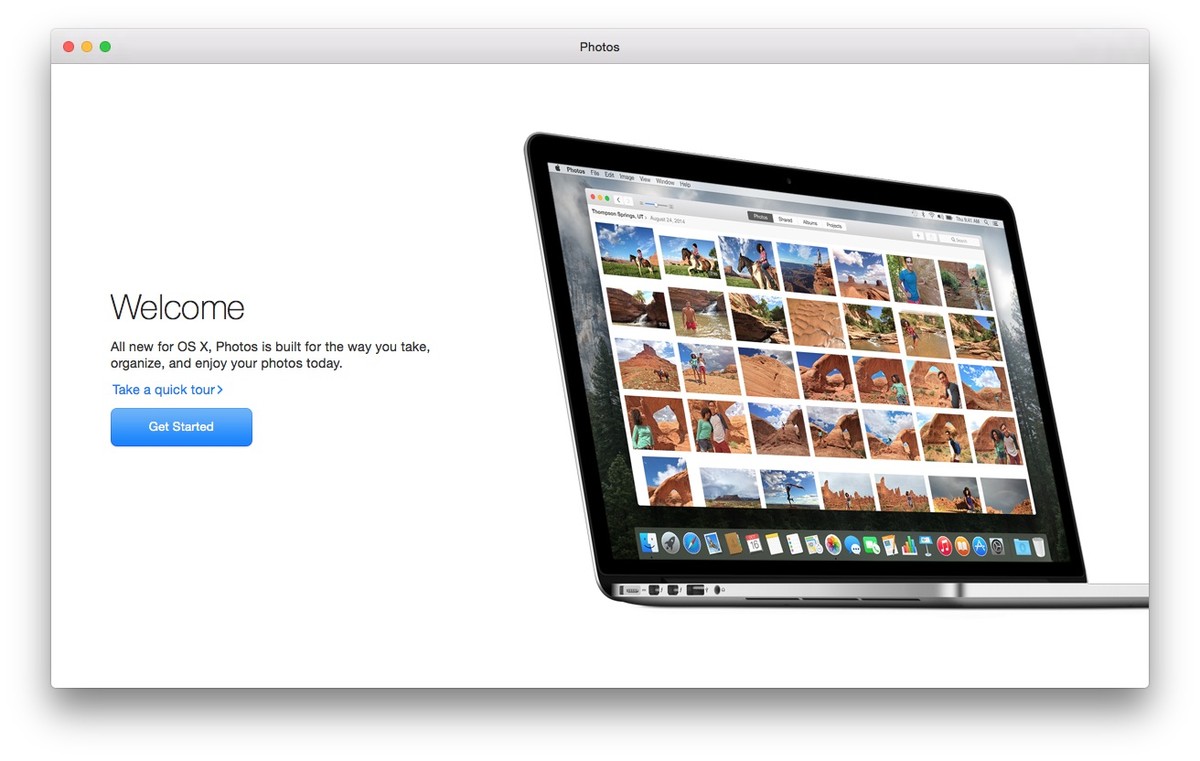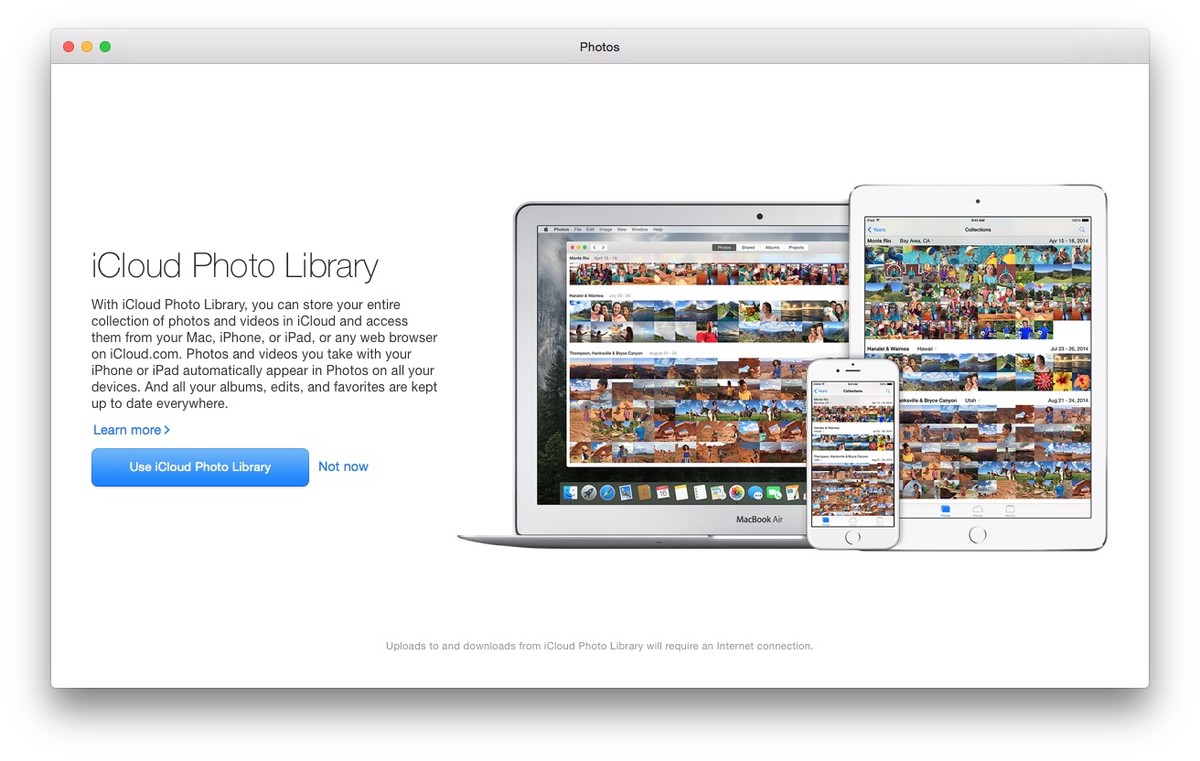 2. Do you want to convert your library to Photos. if you say yes to this then your Library will no longer be available to iPhoto in any meaningful way. Now, is that a bad thing? On the whole, I don't think so but lets assume, for a moment, that you have converted your iphoto Library over to Photos. Will you regret it?
Well the thrust behind this new App is to streamline the iOS and desktop experience . Photos looks and feels like the Photos app on your iPhone and iPad so its instantly familiar but less of a strain on your thumbs. The interface is clean and, at least in my experience, faster than iPhoto.
In what is becoming something of a habit with Apple, the familiar features are hidden under a layer of simplicity and finding those little touches that make you feel more comfortable have to be searched for . Case in point is when you first open Photos you are given this rather stark looking backdrop.

The first thing you might want to do it click on the View menu and choose Show Sidebar.
Instantly it starts to look a little better or at any rate, more familiar.
From here is pretty much as you'd expect but with a couple of notably absent friends.
Double clicking on an album reveals all the photos and double clicking on a photo gives you a full screen version.
It's right about now that you might notice the menubar at the top of the screen with some rather innocuous looking icons left and right – these allow for full, well nearly full, control over that photo you just opened. You can see all the other photos in the album for reference, you can get shutter speed, date and time and you can share the photo with Facebook, twitter, messages and more.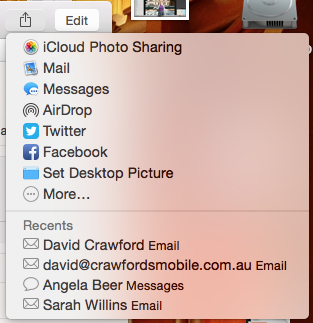 The Edit button dulls the screen and removes all other distractions and slides in the adjustment tools but again, as you'll see below, a great deal of the depth has been removed from the interface.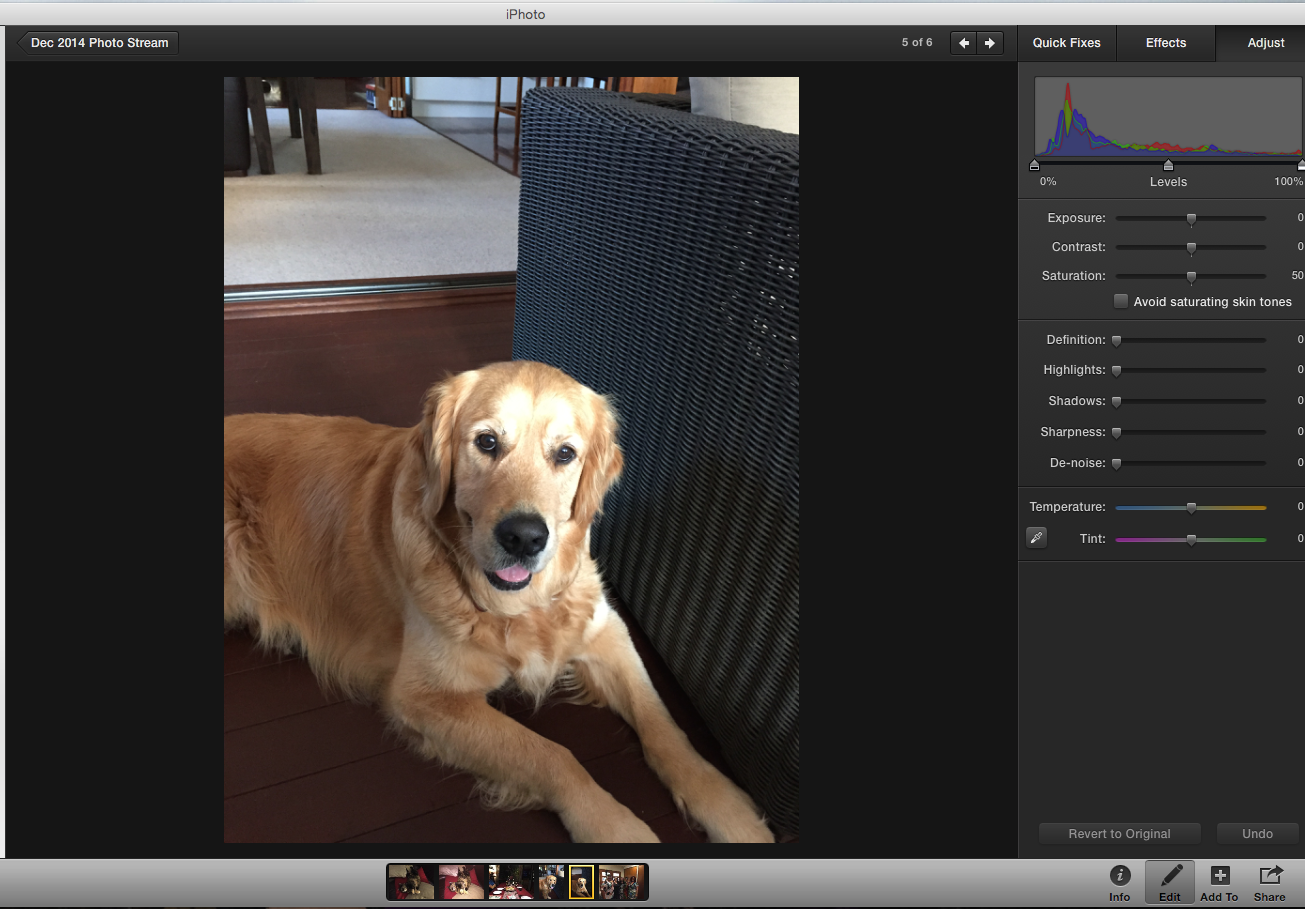 Editing in iPhoto '11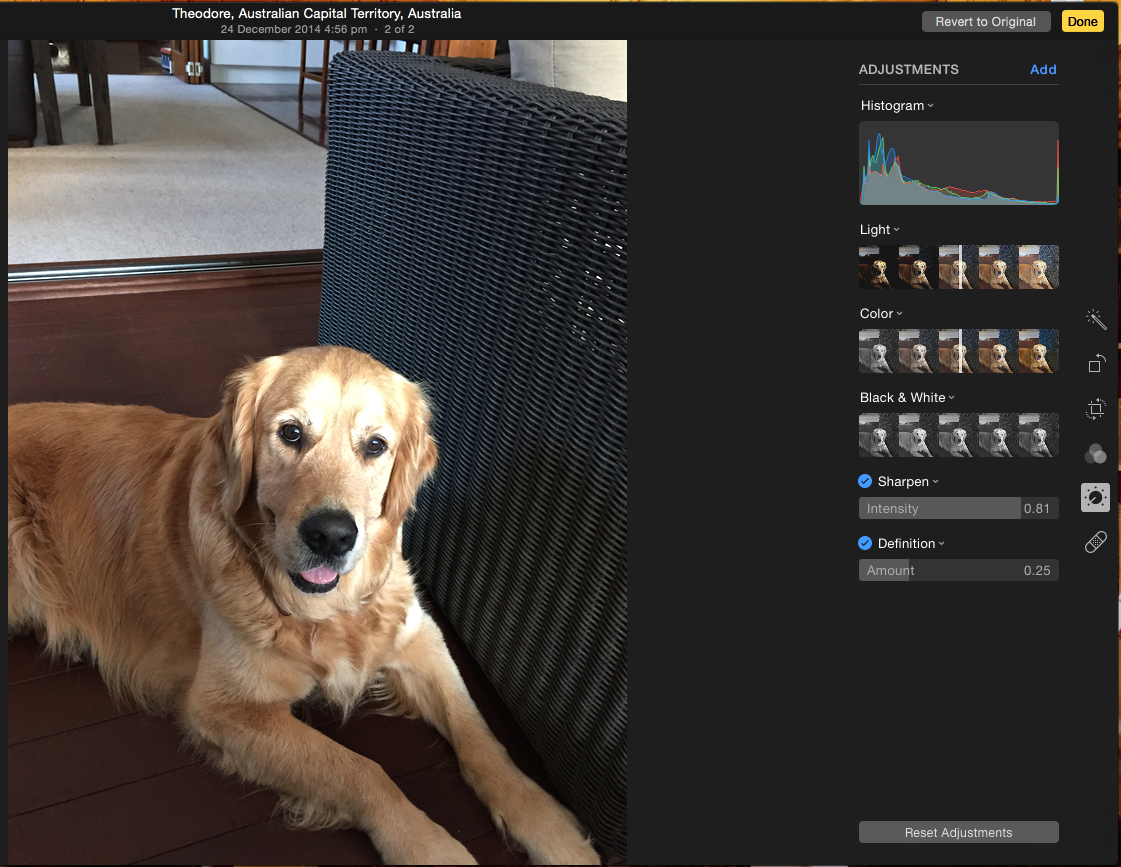 Editing in Photos
All these tools are fairly self explanatory but again, Apple delights in hiding things that, upon first glance, make you wonder if you've lost something. The Adjustments Tools, when you first click on it, gives you a pathetic choice of Light, Colour or Black and White.

But clicking on the Add button allows you to also have Levels. Histogram and more.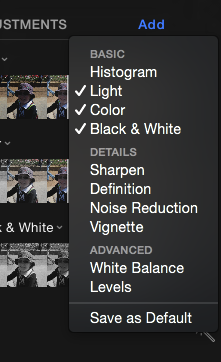 I guess its a case of as much or as little control as you want.
The other tools are fairly basic allowing the removal of Red eye or applying filters. The only real let down is the Retouch Tool. (band aid). In Photoshop its a modern miracle but here its only useful for removing pimples and other marks. As for removing the shadow from a gravel path… forget it.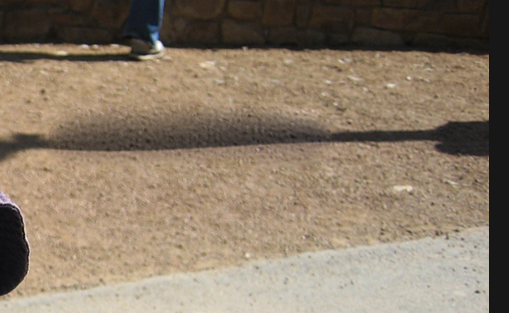 So all in all its a modern looking bit of kit with the all the sleekness of an Ikea bedroom suite. Its fast, its clean and to the point  but there are some problems.
One of iPhotos greatest party tricks has been its ability to warn you before you try and email 29MB of photos to Great Aunt Joyce. Yes, selecting all 50 of your recent holiday photos and try and send them via email and iPhoto would give you a better option.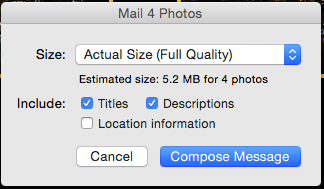 Photos just goes ahead and does it.
My assumption is that since you need 10.10.3 to run Photos you have the option to use Mail Drop that allows you to send any size email by sending your photos to a holding cell in iCloud and emailing your intended a link from which they can be downloaded.
But then there is the matter of editing photos. In iPhoto you can edit IN iPhoto or, if you want to do some clever editing, pass the photo to a 3rd party app like Photoshop Elements. This allowed you to edit and then save the finished product right back into your library without the need for Exporting, importing or anything like that. Does Photos allow this, you bet it doesn't! A least not yet? There is some suggestion that Photos is designed to have plug ins so who knows, maybe Adobe will spend hundreds of man hours and thousands of dollars creating something that makes their product obsolete… and maybe they won't.
For better or for worse I have moved my library to Photos and for the most part I like the looks and comfort of this modern bit of software. But I do miss how comfortable my old software was to look at and the cute little features it used to have.
In a way I have replaced my roll top desk with its secret compartments and leather top for a sleek sharp edged desk with steel legs and soft glide draws. They are both flat and both let me use my Mac in comfort but…, well… you know.