Back in June I promised to keep you up-to-date with the latest operating system for the iPhone – iOS6.
In my first article I concentrated mainly on the features that were highlighted by Apple during their  WWDC announcement. Since that time there has been a second release but I was not motivated to write anything about that because frankly nothing changed. A couple of weeks back a third release was made available and I am happy to report that some of the promise is starting to materialise for those of us that live outside of the USA.
In short – it's starting to look good.
Maps
The new maps application still looks light and clean skinned but it's still lacks some of the basic features that you would expect from a turn by turn GPS application.
Release 3 has finally introduced kilometres and meters instead of miles and feet and it works flawlessly with Siri when you ask her to give you directions to so-and-so. But sadly the little blue dot still gets lost if you take a wrong turn, drifting off into the never-never rather than recalculating your route. For now at least I will continue to use NavFree as my GPS solution.
iOS Maps (on the left) vs NavFree (on the right)
Siri
Much was made of Siri's increased knowledge of the world around her and yet in release 1 she still could not find a decent restaurant in the heart of Canberra's restaurant district. This latest release sees a vast improvement in her ability to thumb through the yellow pages directory. Now, instead of giving me the same restaurant no matter where I was, I now get a full list of restaurants in my area complete with ratings. Not only that but she offers to ring the restaurant for me or give me directions. But sadly she still cannot find a petrol station and when I asked for any doctors in my local area she tried to send me to a gynaecologist.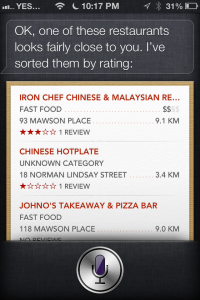 The rest
All the other things that I listed in the previous article have not really changed between releases but I sure am looking forward to release 4.