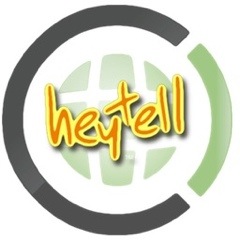 We have all been there. Rushing into something or bolting out of another, you realize that you should have called someone about something.
In the past you would have to stop rushing or bolting and make a call or bang off an SMS. All of which takes time (that in this case you don't have) and costs money.
Right about now I bet you are thinking, "ah but iMessage is free and you can dictate SMS with Siri on the go!"
Well OK, iMessage is free but only between Apple devices and Siri gets it wrong sometimes.
Hey Tell is a free application (available for iOS, Android, Windows Phone 7 and even Blackberry) that solves this and many other communication scenarios.
Once installed (from the APP Store) all that is required is picking names out of your address book and inviting them to install the app as well. From here it's a very simple case of pressing and holding on the Talk button to record a quick voice message. Release the button and the message is sent to the other Hey Tell user. It's fast, it's cheap and easy.
Think of it as turning your iPhone into a Walkie Talkie.