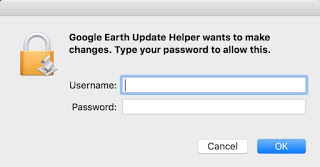 It's very likely that in the last few days you have seen the above dialog appear on your screen.
You didn't ask for this update and all of a sudden you are being asked to enter your password!
You have every right to be suspicious but rest assured all the chatter on the net appears to suggest this is 100% legit. Creepy and ill-managed, but legit.
So, what to do?
Well, if you ignore it it will just keep coming back so for now I would install the update and curse google for being google.
On the other hand, if you really really really don't want to apply the update you can remove the software and apply a few terminal commands (yes, it is that insidious) and the problem will go away.
On the other hand, book a health check and we can remove it for you at the sometime.