For the last ten years or so I have been more willing to spoon feed my eyeballs to the cat than watch a single second of commercial TV.
So it will come as no surprise, I am sure, that I have been a big fan of the Apple TV ever since its release in 2007.
I have written a few articles about it in that time but to be honest the product has remained pretty static with just the odd speed bump, size change and resolution capabilities to its name. It has, in essence remained a conduit between your TV and the internet. Thats not to say that I haven't loved it and rank it as one of the most important elements of home entertainment. This is especially true when you think of the alternatives. Commercial TV with Big Brother, endless ads, Celebrity Big Brother, Weight loss programs, Goggle Box (God help us), more ads.
Where is that cat?
Then there is Foxtel… the great lie. A $25+ subscription service that STILL rams ads down your throat! I am sorry, but when I pay a fee it is supposed to expunge ads completely.
What's wrong, doesn't my cat like eyeballs?
Anyway I am getting side tracked. Needless to say, the Apple TV hasn't changed much, until now. And my goodness, what a change!
Let's start with what hasn't changed.
It still connects to the TV via an HDMI cable, to your network via ethernet or wifi. It still offers lounge room comfortable access to iTunes movies, music, TV shows, Netflix, Stan and YouTube. (to name but a few). It still allows you to stream music and video from your iPad or iPhone to the TV and, if connected, to your amplifier.
However, the 4th gen Apple TV now has Siri, and an App Store that opens it up for endless improvement, awesome screen savers that get updated monthly and a new interface that delivers far more content than ever before.
Let us, as MC Hammer once declared, break it down.
Setting up
For those that haven't bought  an Apple TV before, this is what you get in the post.
Inside, typically Apple, are the bare necessities. The Apple TV itself, a power cable, remote, an info booklet, a remote and a charging cable.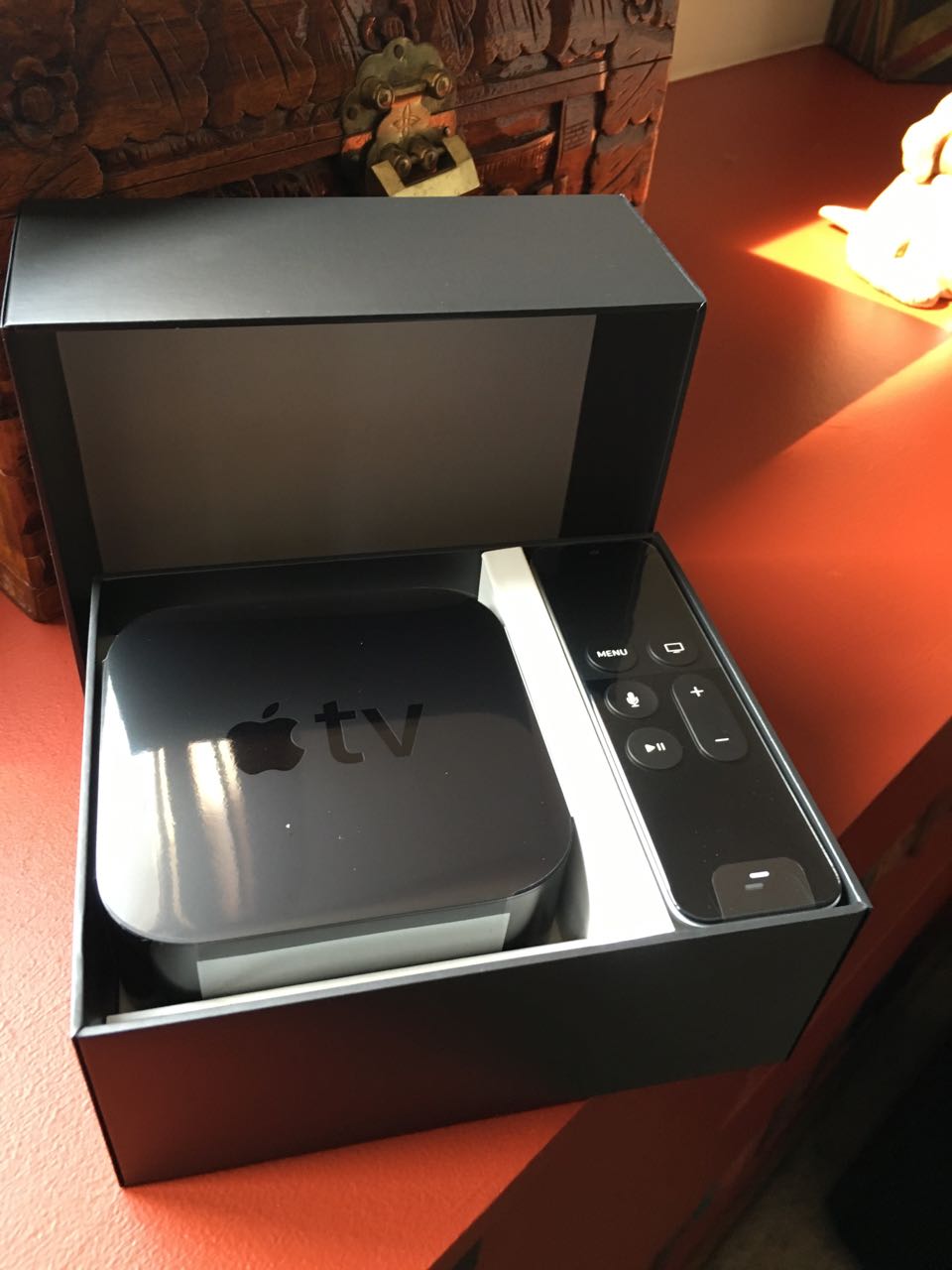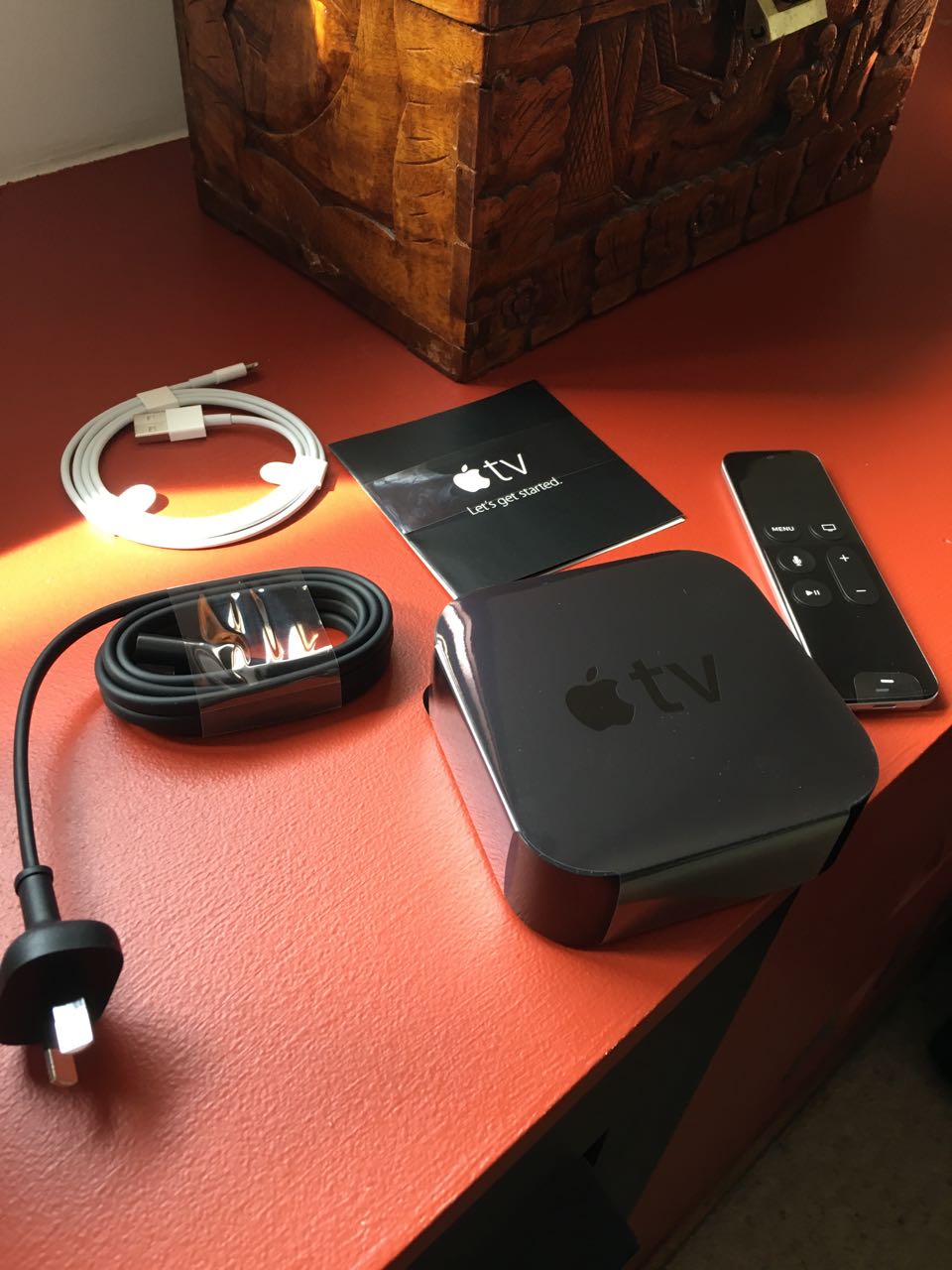 From here, even if you have unpacked an Apple TVs in the past, it gets new and very exciting.
Upon plugging the unit into your TV and turning it on you are asked to pair the included remote.
If you already have your iTunes details stored on your iPhone or iPad you can use it to setup the Apple TV automatically.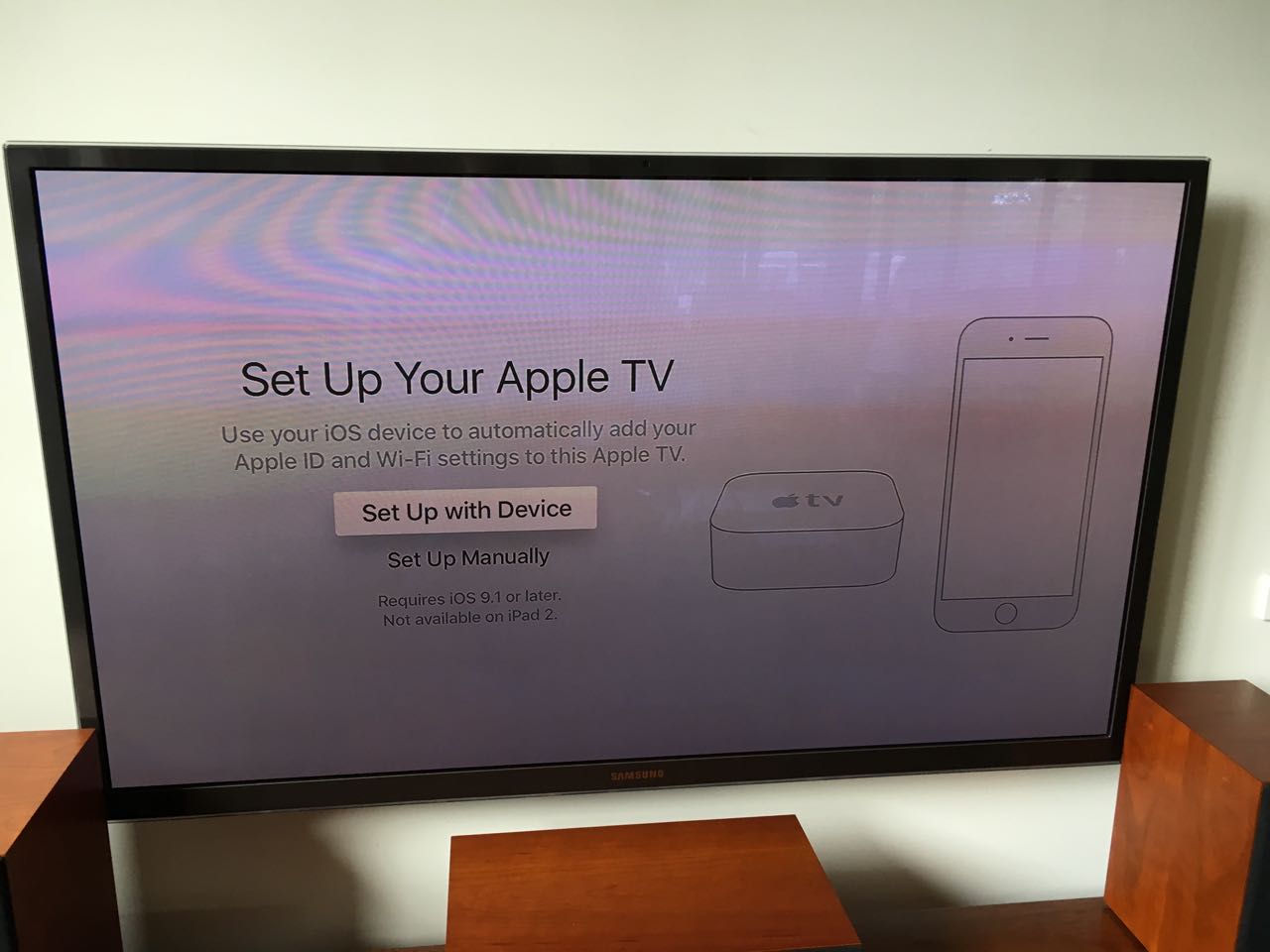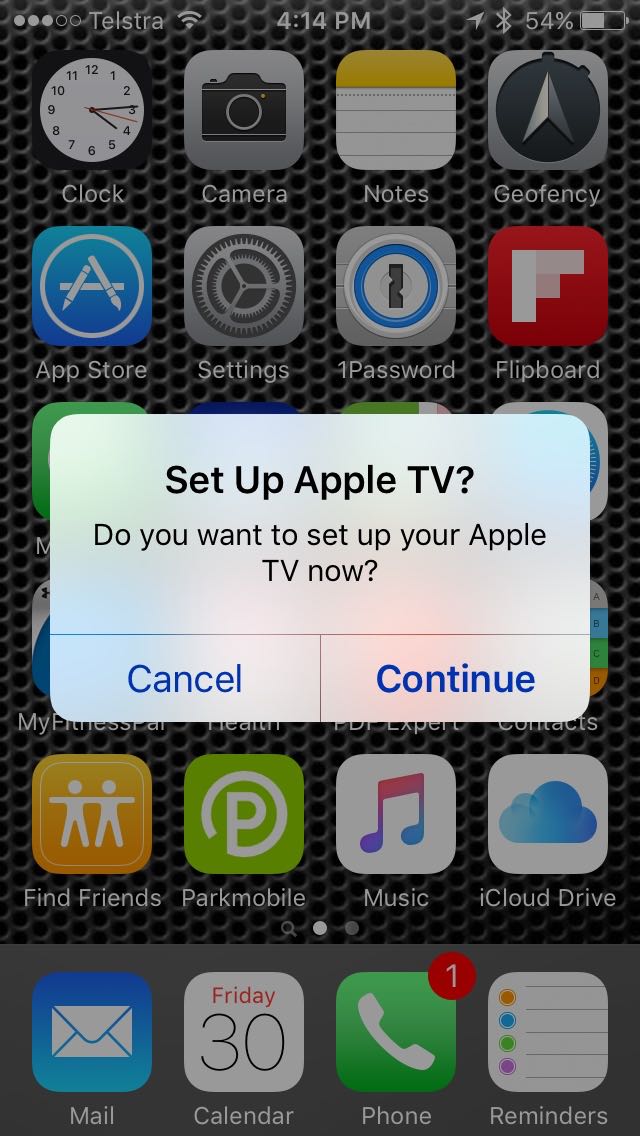 After this a two step verification is all that is required and the Apple TV is ready to go!
The first thing you'll notice is that the layout  is cleaner and the second thing you'll notice (if you've used one before) is that YouTube and Netflix are missing. Don't worry. That, as it turns out, is part of the magic.
The App Store
Like the iPhone, iPad and the Mac, the Apple TV now has an App Store. It is here that you can download and install games, cooking apps, exercise apps and, tah nah!, Netflix and Youtube.
In the coming months you'll be downloading the BBC iPlayer and possibly the ABC iView.
This is the genius of the new set up because this allows the Apple TV to go well beyond just a pipeline to the internet. The App store allows it to expand into serving up recipes, exercise routines, fast food ordering, shopping in general… the list is potentially endless.
In order to add YouTube, and this serves as an example on how to use the App store in general, do the following:
Using the new remote – the top part acts like a track pad – navigate to the App Store icon.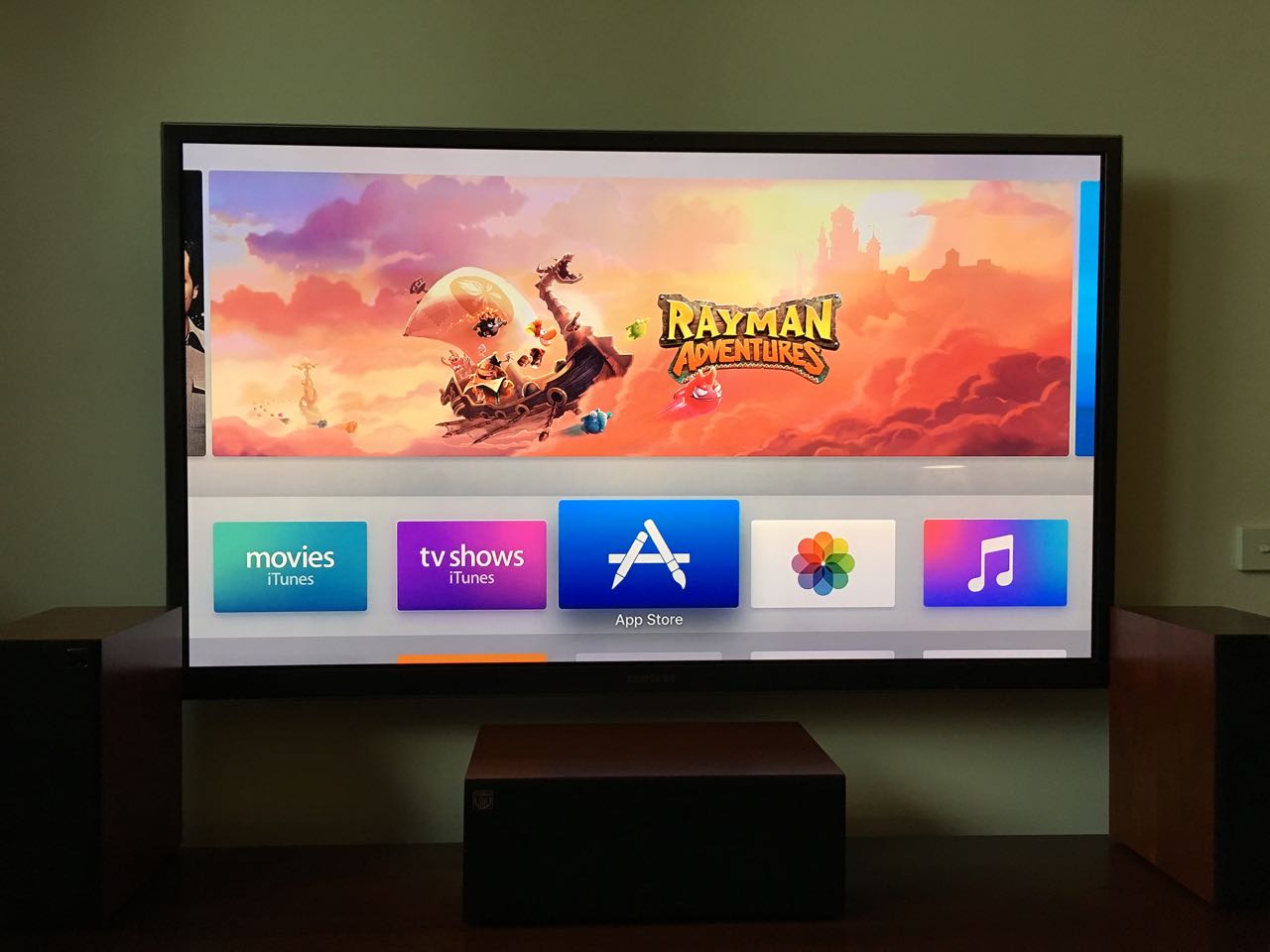 Go to search and start typing "You Tube"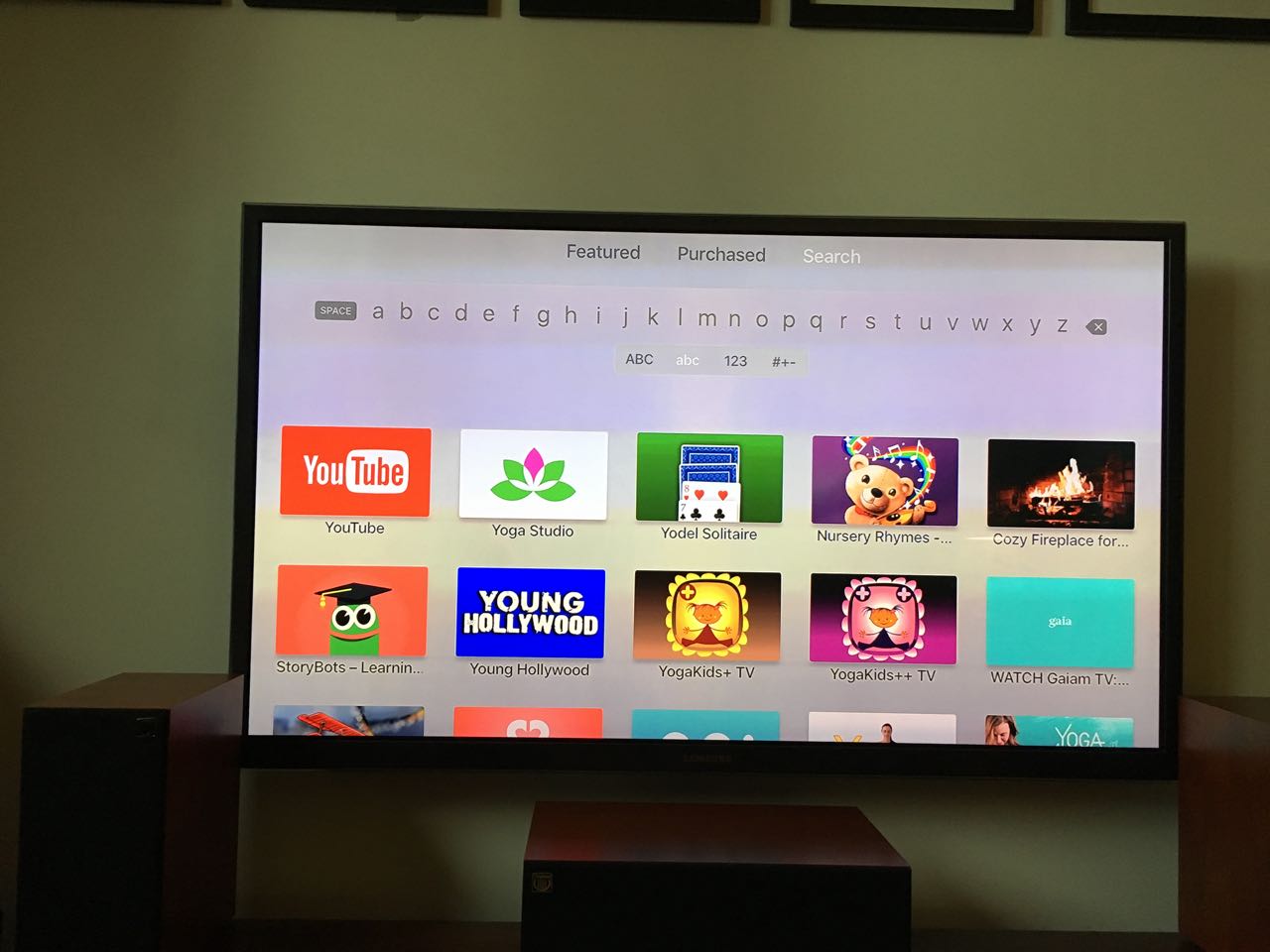 Select it by pressing on the trackpad like area with your thumb.
You might notice that this is NOT Youtube but a fake fireplace. I already had Youtube, but the process is the same.
It will dutifully download and when finished it will be on your home screen.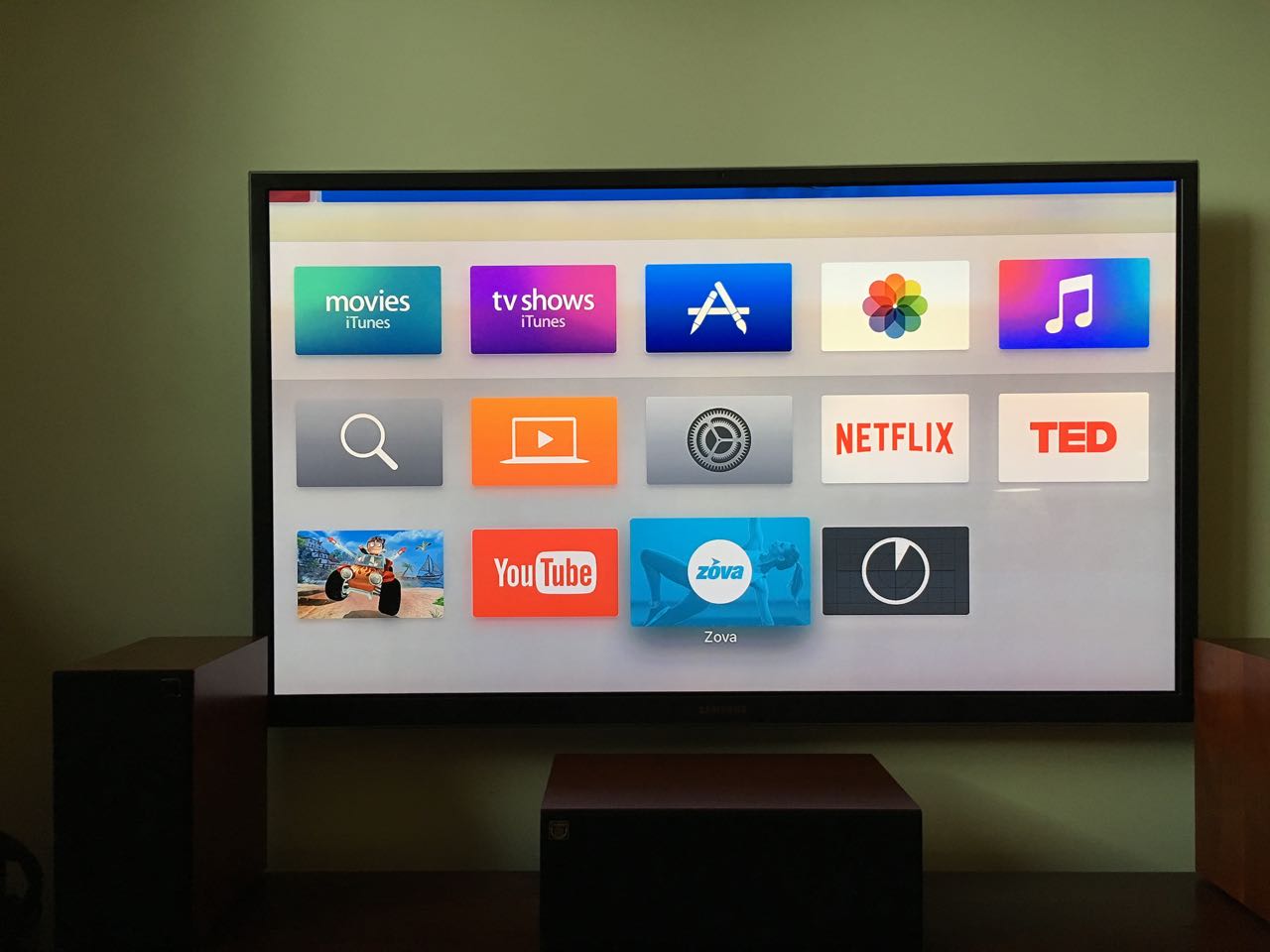 You might have noticed that while you were there you could search for a whole heap of other things and have a look at was is trending.
Siri
On the remote there is a small microphone icon. Pressing and holding will bring up Siri and you can ask her all kinds of things and, once again, I can see this getting more and more feature rich as time goes on.
Some of the nattier things you can do with her at the moment are…
While a movie is playing you can ask Siri to turn on subtitles, skip forward 10 mins, go back to the beginning, who stars in this movie, who directed it, ect. You can also ask her "what did he say" and the movie will automatically rewind 15 seconds and subtitles will be added temporarily.
You can, before watching a movie, ask Siri to show you all the best Action movies or the latest romances. One particular favourite of mine is something along the lines of…
"Show me all the James Bond movies"
Movies are listed.
"Just the ones starring Sean Connery"
Just his movies are then listed.
Important setting
The internet in this country is a joke, a mess, an inconsistent jumble of the haves and have nots. It's a disgrace. But unfortunately the Apple TV relies on a good, fast internet service and Apple ship it, set up by default, to take full advantage. This means unless you do a little tweaking, the first movie or TV show you download will be in full High Definition and your hair will have grown another inch before you get to watch it. Fortunately there is a setting that will allow you to download and rent in Standard Definition that works rather well even on the weakest (aka my house) internet service.
To change downloads to Standard Definition you do the following:
Navigate to Settings
Go to Apps
Open iTunes Movies and TV Shows
Select Video Resolution and select Standard Definition
Happy watching and don't miss my guide on how to set up legal access to US, UK and Australian Netflix.